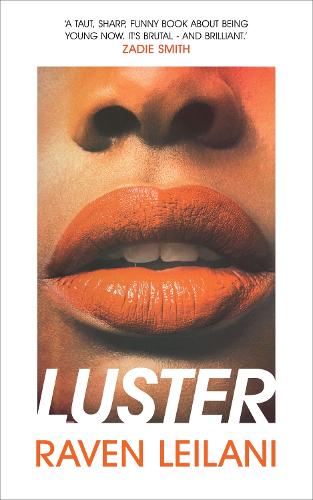 US debutant Raven Leilani comes firing out the blocks with Luster; a brilliantly funny, artistic and painful portrayal of modern womanhood
Edition: Picador, January 2021
As far as first sentences go, Raven Leilani's debut novel Luster lands on an absolute gold mine:
'The first time we have sex we are both fully clothed, at our desks during working hours, bathed in blue computer light'.
It's the sort of opening that tells us exactly where we are without telling us much. Almost immediately, we're plonked down in a world of millennial dread, dating anxiety and a thoroughly modern prism. And that's perfect. Because although we don't quite know it at this stage, the novel's protagonist Edie lives in that prism too.
A 23-year-old assistant at a New York publishing house, Edie finds herself dating a man twice her age, eventually becoming entangled in an open marriage. On a surface level, it's the story of being the 'other woman', albeit in 21st century suburbia and not wild and despotic Thomas Hardy English countryside.
But the battles Edie has to fight – a deep sense of self-loathing, being an orphan, the struggling artist routine and normalised bouts of racism – are huge. And the novel's prescience seeps and ekes out of nooks and crannies, rising at the most unexpected moments, slithering tenaciously from loose mundanity; a visit to an art exhibition for example (parenthood), or taking an adopted daughter to her martial arts classes (attraction, isolation AND parenthood).
Power Imbalances In An Unbalanced City
The beauty in Leilani's writing is that it makes existential anguish and prejudice hit just as they should; like a sledgehammer. The sinister moments, executed in that blink-and-you'll-miss-it style, reflect how absorbed into everyday consciousness many biases, injustices and inaccuracies are.
The way Edie approaches the power imbalances in pretty much every aspect of her life, presents her as a personality who soaks inequity up like a sponge. Someone who doesn't necessarily believe bad things happen to her for a reason but struggles to express internal righteousness in her shape-shifting, often unfinished self-portraits.
Things get fascinatingly bleak in the book's final third, where ruminations on motherhood, police brutality and a sense of belonging sting particularly hard. By this point, there's very little humour left, Leilani instead using resonant pathos to depict a reality that is often overlooked but never – in New York's 'bounty of holes' – uncommon.
Much has been written about the book's theorising on art and the machinations of craft in particular as a mirror for life. And there's always that sense of dogged determination in Edie, as art becomes the necessary documentation of survival that creatives will always recognise.
Womanhood As Solace In the 21st Century
It's a definably assured debut novel. Often as hilariously filthy as it is acerbic, Leilani has done a grand job of presenting stream-of-consciousness and unflinching trauma just as it might appear in one's brain.
As a white man I can't claim any of these experiences for myself. But Luster is also a unifying piece of work; Edie's confusion eventually finds solace in womanhood, what it should and should not be, and how it has moulded survival to its hands in a unique way. The novel itself is similarly singular.  
You can buy Luster here.